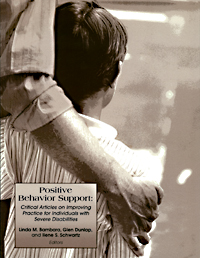 Positive Behavior Support: Critical Articles on Improving Practice for Individuals with Severe Disabilities
softcover • 424 pages • $34.00
This reference work, a cooperative venture between TASH (www.tash.org) and the Hammill Institute, is essential for anyone concerned with fundamental issues related to positive behavior support (PBS). The editors selected influential articles documenting the history, foundation, and critical features of PBS for people with severe disabilities from TASH's journal Research and Practice for Persons with Severe Disabilities (formerly JASH) and the Institute's Journal of Positive Behavior Interventions.
The compilation is organized in six sections:
Part I. Foundations of Positive Behavior Support — provides the historical, conceptual, and ethical foundations of PBS.
Part II. Assessment: Functional Assessment, Person-Centered Planning, and Meaningful Outcomes — provides practical information on how to conduct functional assessments in everyday settings.
Part III. Assessment-Based Interventions — presents empirical and case illustrations of comprehensive, assessment-based intervention for children and adults with severe disabilities.
Part IV. Families and Family Support — emphasizes the family perspective of PBS.
Part V. Capacity Building — deals with supporting the people who are called upon to implement PBS.
Part VI. Extended Applications: Focus on Systems Change — focuses on the continuing evolution of PBS and highlights new directions.
** SPECIAL TASH MEMBER DISCOUNT**
$24.00 per book
NOTE: This offer is for TASH members only; members must provide a current membership number to receive the discounted rate. Please call Customer Service to receive the discount.
ISBN: 978-0-89079-986-4 | Order #1025