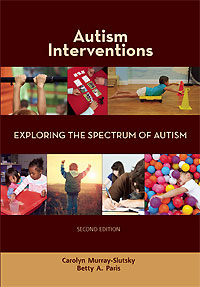 Autism Interventions: Exploring the Spectrum of Autism
softcover • 572 pages • $75.00
Autism Interventions: Exploring the Spectrum of Autism provides the most current assessment and intervention techniques, based on best practice and up-to-date research, for children on the autism spectrum. This practical and valuable tool offers holistic, dynamic, and effective intervention strategies and treatment plans to improve the functioning of individuals with autism. Written by highly acclaimed occupational, physical and speech-language therapists, researchers, and educational and behavioral specialists, it is a valuable text and clinical reference for all parents and professionals working with children with an Autism Spectrum Disorder (ASD). Therapists, teachers, psychologists, other professionals and parents, will find it easy-to-read and loaded with valuable treatment techniques:
Sensory Processing – chapters dedicated to sensory issues in autism and their impact on skill development, function, interaction and engagement. Included are modulation disorders, sensory discrimination disorders, postural disorders and dyspraxia; and resulting problems and their interventions.
Communication strategies – including interventions to foster speech and communication; empowering the child to interact with others; develop social skills and friendships.
Motor control, coordination and motor planning – chapters aimed at developing ever increasing skills to aid in the acquisition of functional skills required for self-care; independence within the classroom and educational environment; and engagement in leisure time activities. Oral-motor and feeding issues commonly seen with children with an ASD are addressed within a separate chapter and include extensive intervention strategies.
Behavioral strategies – aimed at analyzing the function the behavior serves, facilitating positive outcomes and managing challenging behaviors across all environments.
Educational strategies – addresses the foundational needs of the student with an ASD. Provided are the latest educational strategies, strategies for organizing the learning environment, teaching problem-solving and decision-making skills; and fostering appropriate social behaviors and workplace supports.
The editors offer intervention strategies that are based on best practice and up-to-date research that are practical and easy to implement with real life treatment photographs to illustrate the techniques. Read the review published by Lorna d'Entremont from Special Needs Book Review. E-book version available.
ISBN-13: 978-1-60251-028-9 | Order #1029